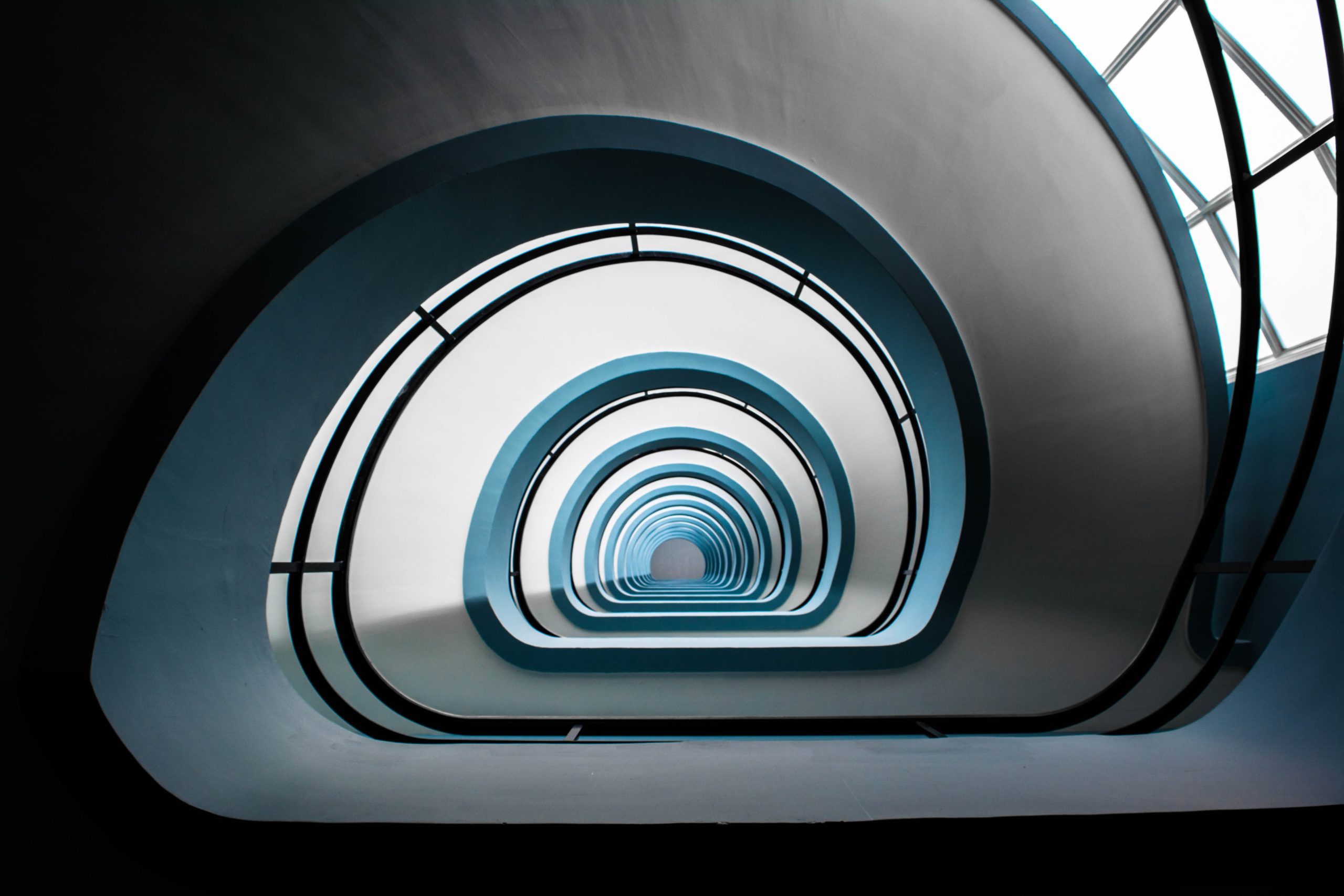 In the relevant framework of the measures taken by the government for supporting companies/business that are being affected by the restrictive measures imposed for the limitation of COVID 19 spread, the VAT law has been amended and the amendments are related to the deferral of payments of VAT due until 10 of November 2020, under certain conditions.
The amendments to the VAT Law which was voted on 27 March 2020, provides the following:
The deferral of payment of VAT due for the periods ending on 29 February 2020, 31 March 2020 and 30 April 2020. No additional tax and interest will be levied, provided that:

 The relevant VAT returns will be timely submitted (10/4, 10/5 and 10/6 respectively)
The VAT due for the above periods will be paid by 10 November 2020
The above conditions do NOT apply to taxable persons with economic activity codes belonging to the following categories: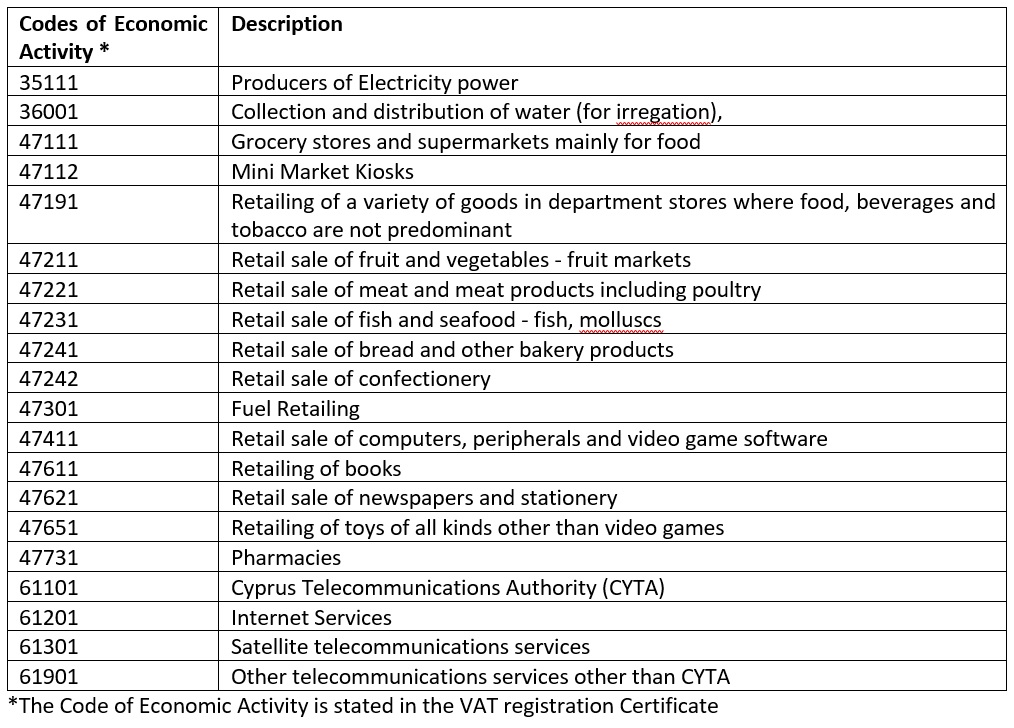 Επέκταση πληρωμής οφειλόμενου ποσού ΦΠΑ υπό συγκεκριμένες προϋποθέσεις
Μέσα στα πλαίσια των μέτρων που λαμβάνει η κυβέρνηση για στήριξη των εταιρειών/επιχειρήσεων που επηρεάζονται από τα περιοριστικά μέτρα που έχουν επιβληθεί για περιορισμό του COVID 19, , έχει τροποποιηθεί ο περί ΦΠΑ Νομοθεσίας και αφορά την αναβολή της πληρωμής οφειλόμενου ΦΠΑ μέχρι 10 Νοεμβρίου 2020 κάτω από ορισμένες προϋποθέσεις.
Η τροποποίηση του περί ΦΠΑ Νόμου η οποία ψηφίστηκε στις 27 Μαρτίου 2020, προνοεί τα ακόλουθα:
Προσωρινή αναστολή της υποχρέωσης καταβολής του ΦΠΑ για τις φορολογικές περιόδους που λήγουν στις 29 Φεβρουάριου, 31 Μαρτίου και 30 Απρίλιου 2020. Δεν θα επιβάλλεται επίσης πρόσθετος φόρος και τόκος για τις οικονομικές δραστηριότητες που επηρεάζονται από τα μέτρα, νοουμένου ότι:

οι εταιρείες θα υποβάλουν τις φορολογικές τους δηλώσεις εμπρόθεσμα (10/4, 10/5 και 10/6 αντιστοίχως)
Τα οφειλόμενα ποσά θα καταβάλλονται σταδιακά και θα ξοφληθούν μέχρι τις 10 Νοεμβρίου 2020.
Η πιο πάνω επιφύλαξη δεν εφαρμόζεται για υποκείμενα στο φόρο πρόσωπα με κώδικες οικονομικής δραστηριότητας που ανήκουν στις ακόλουθες κατηγορίες: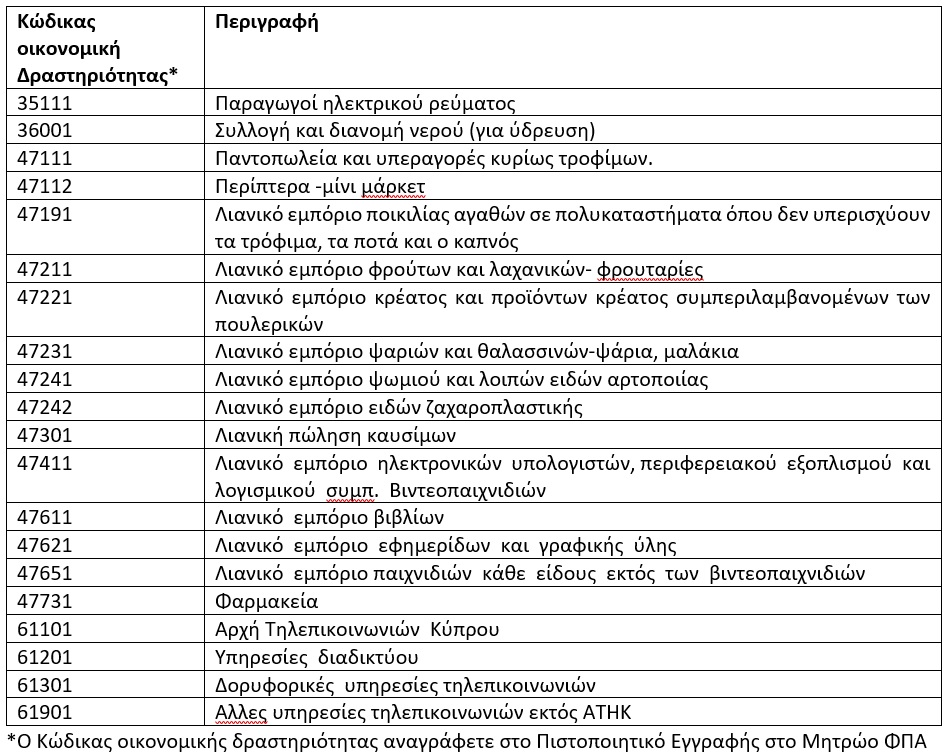 Για περισσότερες πληροφορίες είμαστε στην διάθεση σας και μπορείτε να επικοινωνήσετε μαζί μας.