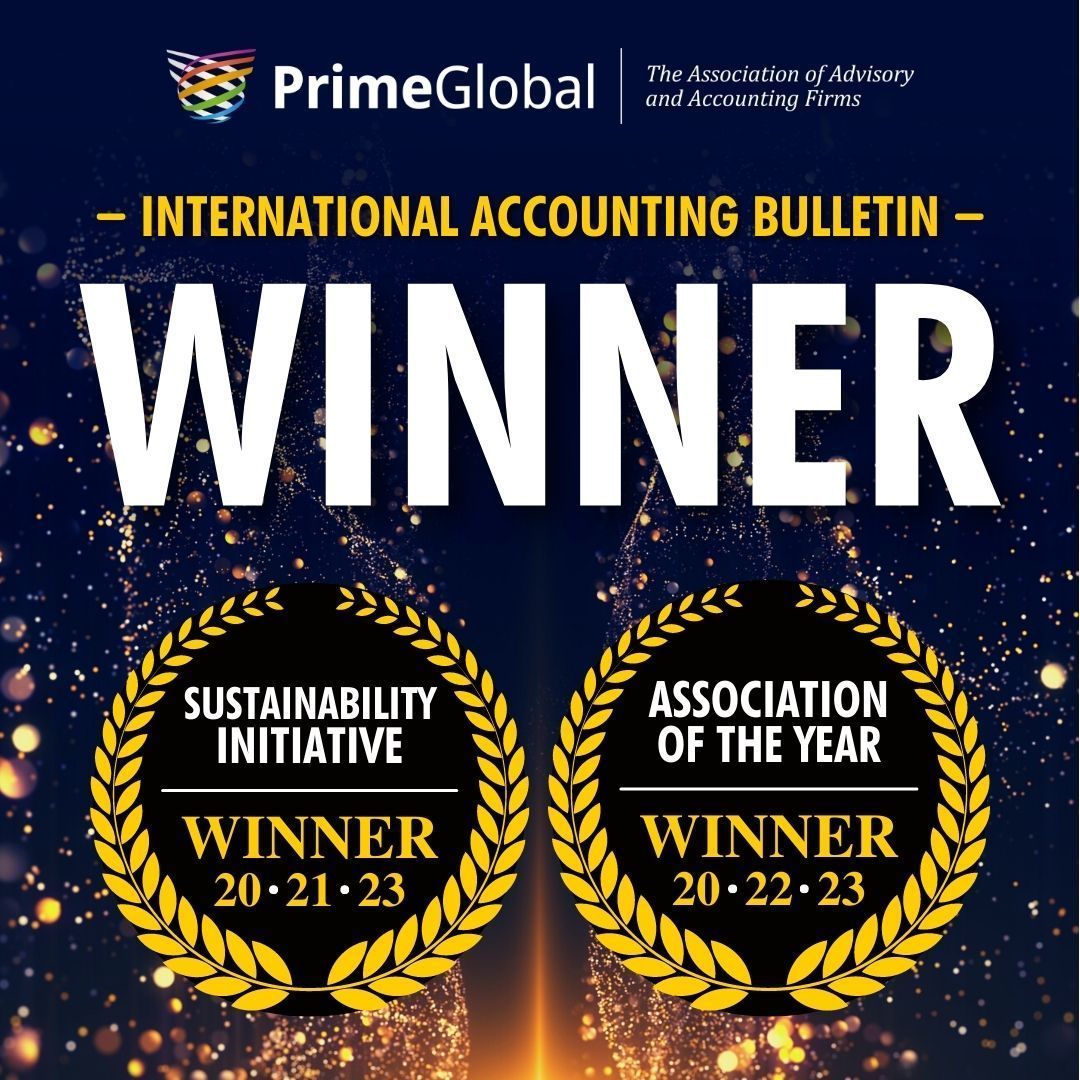 PrimeGlobal is delighted to announce that it has been named Association of the Year 2023 and Sustainability Initiative of the Year at the 2023 International Accounting Bulletin (IAB) Awards.
Achieving a groundbreaking milestone, PrimeGlobal attained total annual firm revenue of $4.3 billion in the year 2022/23. With a remarkable presence of 311 member firms spanning 1,095 locations in 112 countries, PrimeGlobal firmly solidifies its position as the foremost association globally, recognized for its unparalleled diverse reach and extensive geographic coverage
Association of the Year 2023
PrimeGlobal attained a remarkable year with unprecedented achievements and superior execution which has accumulated in being awarded 'Association of the Year' by the International Accounting Bulletin (IAB). Together, the staff and members implemented bold strategic initiatives and continued the long-standing tradition of demonstrating the highest professional standards to clients and the profession at large. Pursuing Strategy 2025, PrimeGlobal's 5-year plan, the success was built on a foundation of technology, sustainability, and accountability.
Sustainability Initiative of the Year 2023
In a highly competitive category filled with numerous high-caliber entries, PrimeGlobal emerged as the winner of the Sustainability Initiative. PrimeGlobal has established a clear commitment to sustainability programs by embedding actionable ESG and ESR targets into the association's 5-year Strategy. This sustainability commitment is championed by two world-class achievements: the first publicly published, 'ESG style' Annual Impact Report and the launching of a practical B Corp Workbook for small to mid-sized accounting firms.
The competition was fierce in both these categories, however, PrimeGlobal stood out among the rest, demonstrating its commitment to the industry. Together with its members, PrimeGlobal set new benchmarks and raised the bar for excellence in critical areas of the profession. This achievement further strengthens its resolve to continue supporting and empowering its member firms as we forge ahead into the future.
BEING a member of PrimeGlobal, KKP gained the strengths and capabilities of this large worldwide organization with technical depth and geographic reach impossible for a local firm alone. 
KKP clients can take advantage of this extensive network that KKP has developed through PrimeGlobal.